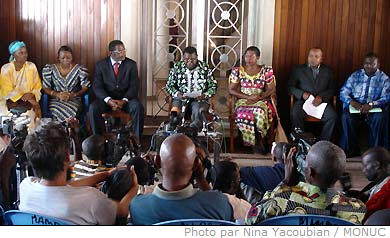 The political office of the "Union pour la Nation" (UpN), the political platform that supports presidential candidate Jean Pierre Bemba, denounced on Tuesday November 14 2006 the partial results given by the IEC, and affirmed that Mr. Bemba is in the lead, with 52.5% of the 11,954,758 ballots cast.

According to the document which was made public at Mr. Bemba's residence on the Boulevard de 30 Juin, Mr. Bemba is 'largely ahead of Joseph Kabila in 6 provinces out of 11'.

"We wish to inform public opinion that at this stage, the table of results, on the level of the centre of compilation of results for the "Union pour la Nation", shows that, of 11,954,758 ballots cast, Jean Pierre Bemba is in the lead with 52.5% of the votes."

The UpN also contested the impartiality of the Independent Electoral Commission (IEC), and invited "all the independent and credible institutions, which have been deployed as observers on the whole of the national territory, to publish the results which they have of the presidential election second round, to establish the truth of the ballot boxes."

The UpN also said they reserved the right to contest the accords negotiated with Kabila's AMP camp under the auspices of the United Nations, if "the IEC install a new president through cheating, like the first round."

In addition, the "Union pour la Nation" welcomed the declaration of Cardinal Etsou, Archbishop of Kinshasa, who affirmed from France that "we have said that we want free, transparent and democratic elections, but this is not the case".

The declaration of the "Union pour la Nation" is signed by many political personalities and ex presidential candidates such as Oscar Kashala, Joesph Oleghankoy, Roger Lumbala, and Lunda Bululu, members of the Union pour la Nation who have rallied around the candidature of Jean Pierre Bemba for the second round.