Observers of Sunday's second-round presidential election in the Democratic Republic of Congo are pleading with electoral officials to ensure transparency in vote counting. The observers also criticized Congolese media for disseminating hate speech and biased coverage.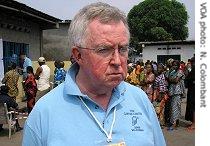 Carter Center delegation leader Joe Clark

Overall, given the challenges facing the DRC, said he was pleased with what he called a major success.

"Instances of disruption or attempted manipulation of the electoral process, while very serious in a few cases, appear at this point to be isolated and unlikely to affect the overall success of the vote," Clark said. "Polling stations were very well organized and electoral workers carried out their responsibilities competently and professionally."

But as with the first round, when results were followed by deadly clashes in Kinshasa, the compilation of tally sheets is proving to be slow and challenging.

The former Canadian prime minister urged Congo's independent election commission to do a better job.

"The commission needs to ensure timely access to official results by polling stations at all levels, so these can be cross-checked against the results collected by party poll watchers and observers," he said.

He also pleaded to the two candidates, transitional President Joseph Kabila and former rebel leader Jean Pierre Bemba, to make more appeals for calm.

Observers said it was unfortunate there were many areas in the vast Congo where the two contestants did not have party witnesses, possibly leading to inaccurate speculation over final results.

Official results are not expected before mid November.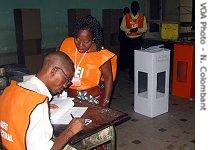 Elections poll workers in DRC, Tuesday, Oct. 31, 2006
The U.S. based Carter Center, run by the former U.S. President Jimmy Carter, also condemned Congolese state television for broadcasting an interview with Mr. Kabila shortly before the vote, while refusing to broadcast a similar interview with Bemba.
More generally, Clark said all Congolese had been let down by partial, biased and inflammatory media.
"I think the unfairness of the media here, was not particularly to one candidate or another, it was to the public," Clark said. "There is a situation in the media in Congo which does not encourage the kind of full debate that is appropriate in an election situation. We deliberately made reference to that. We specifically indicated a clear instance with regard to the national broadcaster, but the problem is more general. As I say the people who suffer the most in this case are the people of Congo who are supposed to make a clear decision."
These comments came as the government's media authority briefly shut down the state television for biased coverage. Bemba's two television stations have also been shut down.
The Carter Center said unsavory coverage from media partial to both camps contributed to violence, a lack of campaigning due to fears of more violence, and possibly lower turnout in the second round.
Earlier, European Union observers said final results may be tight, urging both candidates to respect them and avoid further violence.