VOA News | Published on October 27, 2006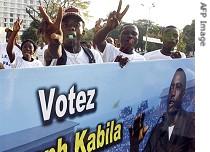 Supporters of President Joseph Kabila chant slogans in Kinshasa, 26 October 2006

An ally of Congolese President Joseph Kabila has been freed from a radio station where he was trapped by soldiers loyal to the president's rival.

United Nations peacekeepers freed Francois Mobutu Nzanga from his makeshift prison in the northern town of Gbadolite Friday.

The incident has raised tensions ahead of Sunday's runoff to determine the Democratic Republic of Congo's next president.

Mobutu Nzanga was campaigning for Mr. Kabila on Thursday when fighters loyal to presidential challenger Jean Pierre Bemba surrounded the station. A gunbattle between Motutu Nzanga's bodyguards and the Bemba forces killed at least four people.

Concerns about such violence have forced Mr. Bemba and Mr. Kabila to limit their campaigning in this, the second round of elections.

On Thursday, Bemba cancelled a mass rally planned for tFriday in the capital, Kinshasa, saying he wanted to avoid bloodshed.

Mr. Kabila won the first round of voting with 45 percent, a few points short of the majority needed for victory.

Some information for this report was provided by AFP, AP and Reuters.