UN envoy says country should be ready to hold successful polls next month

By Monuc | Published on September 28, 2006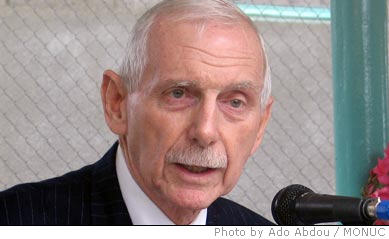 The Democratic Republic of the Congo (DRC) should have all the necessary financial, logistical and security elements in place to successfully stage the run-off round of landmark presidential elections next month, the senior United Nations envoy to the country said on 27 September, 2006.

Speaking to reporters after briefing the Security Council at UN Headquarters in New York, the Secretary-General's Special Representative William Lacy Swing said the UN Organization in the DRC, known as MONUC, is in the midst of "a very complex operation" to prepare the vast African country for the polls.

About 1200 tons of electoral kits have already been transported and 25-28 million ballot papers have also been distributed to regional bases, he said.

Using more than 60 helicopters, or travelling by bicycle, foot or canoe, MONUC staff will then help election officials deliver the ballot papers and electoral kits to some 50,000 polling stations around the country.

On 29 October the Congolese will go to the polls to elect either current President Joseph Kabila or Vice-President Jean-Pierre Bemba as their next President after the two scored highest in the first round on 30 July.

Elections will also be held for members of the DRC's provincial assemblies, who will then have the task of appointing senators to the national parliament, as well as all the regional governors.

The polls on 30 July were the first free and fair elections staged in the DRC in more than 40 years and represent the most complex electoral-assistance programme ever undertaken by the UN.

Mr. Swing was briefing Council members today on the contents of Secretary-General Kofi Annan's latest report on MONUC, in which he called for the Mission's mandate to be extended until February.