MONUC: No security or logistic problems will stop the electoral process

By Monuc | Published on September 20, 2006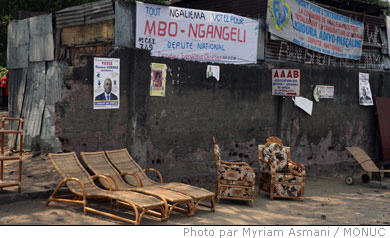 At the weekly MONUC press conference on Wednesday August 20 2006, MONUC reconfirmed its support to the electoral process and reminded the Congolese that they already made their choice of peace.

At the security level, the situation in Kinshasa remains a bit tense and MONUC regrets the fire that destroyed the facilities housing two TV channels owned by Mr. Bemba, on Monday, September 18. MONUC also calls the population to remain calm and and to refrain from committing acts of violence.

The day and night patrols throughout Kinshasa continue and "any security or logistical issue will not affect the electoral process", indicated deputy spokesman, Jean Tobie Okala.

Moreover, MONUC underlines the positive development in the east of the country that shows that peace and security are in progress. During the last days, displaced people in Ituri returned to their village Tchomia and nearly 4848 militias in the district led down their weapons.

MONUC expressed satisfaction with negotiations progressing well between the two remaining presidential candidates, Mr. Kabila and Mr. Bemba, following last month's unrest in Kinshasa.

For the presidential run off, as planned, on October 29, MONUC has once more drawn the attention to the message of the Secretary General of the United Nations, to respect the electoral calendar and to find a code of conduct and avoid all kind of violence.

MONUC, as far as concerned, calls on both presidential candidates to agree on the steps to be taken to restore mutual confidence and guarantee respect for human rights during the electoral campaign.