The release of the results from July's legislative elections in the Democratic Republic of Congo has been postponed, after 10 election workers were arrested for allegedly trying to cheat. Congo's elections commission says the delay is largely a precaution.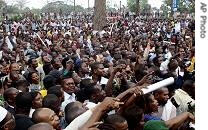 Supporters of Vice president Jean-Pierre Bemba gather outside his house in Kinshasa, Congo (File photo - Aug. 24, 2006)

The results from the Democratic Republic of Congo's first open and democratic legislative elections in more than four decades had been meant to be made public Monday.

But the release was delayed until Thursday, following the arrest early Monday of 10 election employees at a center in Kinshasa where results were being tallied.

There are major reasons for the delay, an official with the Independent Election Commission, Dieudonne Mirimo, told VOA late Monday. The first is that we have 10 election workers who were trying to falsify results in favor of one candidate.

Mirimo said an additional three days will be used to re-verify the results at the Kinshasa counting center. He added that the delay will also give more time to complete the compilation process in several outlying areas.

International observers largely praised the July 30 polls, which are intended to draw a definitive close to a volatile period that saw two successive civil wars kill around four million people, most through disease and starvation.

However, in the month that has followed, the process has been dogged by mounting allegations of fraud. And several days of fighting between forces loyal to President Joseph Kabila and Vice-President Jean-Pierre Bemba, who will meet in a runoff presidential poll next month, left at least 20 dead in Kinshasa.

Mirimo said there is no reason to believe Monday's delay would in any way threaten the remaining steps in the electoral process. Congo's presidential runoff as well as provincial elections are scheduled for October 29.

He said this will have no impact. The printing of ballots for provincial election started last Friday, he said, and the printing of ballots for the presidential election will begin the day after the official declaration of results by the supreme court.

More than 9,500 candidates are vying for a place in Congo's new 500-seat parliament.