A U.N.-brokered truce between fighters loyal to the Democratic Republic of Congo's two remaining presidential candidates appeared to be holding Wednesday. After three days of fighting between men loyal to the incumbent president and a former rebel leader, a relative calm returned to the capital.
The center of Kinshasa, the capital of the Democratic Republic of Congo, began to return to normal Wednesday, with people going back to work and some vehicles and vendors returning to the usually bustling streets.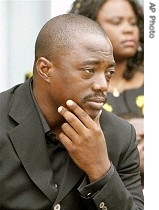 Joseph Kabila

A U.N.-brokered truce between soldiers loyal to President Joseph Kabila and his election rival, and vice president, Jean-Pierre Bemba appeared to be holding.

Military representatives of the two politicians, who are due to take part in a run-off election for Congo's presidency at the end of October, met late Tuesday and agreed to a ceasefire and the return to original positions.

On Wednesday, small groups of nervous-looking soldiers from both sides still wandered around the streets and the occasional crackle of gunfire could be heard.

But the automatic fire and heavy thuds of the street fighting during the last three days has come to an end.

U.N. peacekeepers have deployed in strategic positions around town. Some were out patrolling the main boulevards to ensure they remained clear. Others formed a cordon around Mr. Bemba's house, which had been attacked by the presidential guard.

A European Force, which was reinforced Tuesday with extra soldiers from nearby Gabon, is using helicopters to patrol the city by air.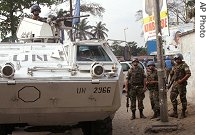 UN troops on patrol in Kinshasa, Aug. 22, 2006