Monuc | Published on August 21, 2006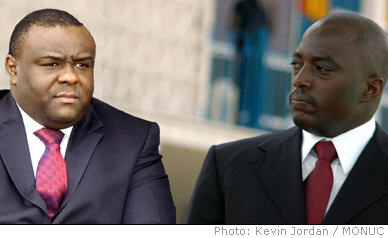 Incumbent Joseph Kabila garnered 44.81% of the vote, while the runner-up, vice-president Jean-Pierre Bemba, collected 20.03%, according to provisional results announced by the CEI late Sunday. They'll be opposed in a second round on October 29.
"Joseph Kabila and Jean-Pierre Bemba, the two candidates who received the most amount of votes, are allowed to stand in the second round of the presidential election, as soon as results are published and transmitted to the Supreme Court of Justice", Malu Malu, the president of the Independent Electoral Commission, proclaimed.
Veteran politician Antoine Gizenga, PALU (Lumumbist party) leader, came third with 13.06% of the tally. Nzanga Mobutu (4.77%), son of former dictator Mobutu Sese Seko, and Oscar Kashala (3.46%), who has spent 20 years in the United States, came respectively fourth and fifth.
Vice-president Azarias Ruberwa, RCD leader, obtained 1.69% of the votes, and Arthur Zaidi N'Goma, another vice-president in the race, collected 0.34 %.
Voter turn out for the July 30 election stood at 70.54% of registered voters, according to Malu Malu, who announced results live on national Congolese TV.
These provisional results now have to be validated by the Supreme Court of Justice, which deals with electoral challenges. Candidates have three days from Monday to file challenges, which will be examined within 7 days by the Court.
The Supreme Court of Justice should announce final results by August 31. The second round will take place on October 29, according to the calendar announced by the CEI.
The CEI is also to release from this week on the provisional results of the legislative elections, held simultaneously on July 30.