The head of Congo's electoral commission says the July presidential elections were above board. While incumbent President Joseph Kabila appears to have an unassailable lead in the elections, opposition candidates continue to complain about what they call massive fraud and irregularity.
The president of the Democratic Republic of Congo's electoral commission, Apollinaire Malumalu, has rejected objections from opposition candidates who say there was too much cheating for them to accept the election results.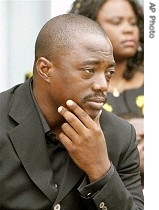 Joseph Kabila

A total of 19 of the 32 presidential hopefuls have formed a protest group since the first results put President Joseph Kabila far ahead of his nearest rival, vice president and former rebel leader Jean-Pierre Bemba. Opposition leaders want the elections to be annulled and rerun.

The accusations are clear. Another vice president and former rebel leader, Azarias Ruberwa, who is part of the group says the vote was manipulated.

He says, independent observers were chased away and, he says, people were brainwashed. He says ballot papers were changed. He says, the Rwandan Interahamwe militia was forcing people to vote for Kabila in the east.

Mr. Kabila appears to have won an overwhelming majority in the east, while Mr. Bemba has been more popular in the west.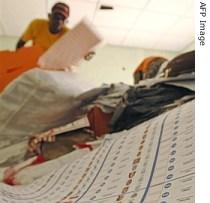 Ballot papers arrive at a counting center in Kinshasa

The electoral commission chief says he formed a committee to examine the situation in the east and found no serious threats to security.

He says, the Interahamwe are certainly present in the region, but, he says, the security committee and local observers say they did not interfere with the elections.

More than two weeks after the ballot, results for most of the country have now been announced, with Mr. Kabila still getting around 55 percent of the vote. Figures are not yet out for the capital, Kinshasa, which opposition candidates believe will yield more votes for them.

Malumalu explains that the Kinshasa counting bureau has been overwhelmed with ballots from other constituencies and has therefore not been able to do its own count yet.

He says, when one center deals with the ballots of several other areas, as is the case in Kinshasa, he says, they have a lot of ballots to get through and it is normal for them to take a bit longer.

Malumalu says provisional results for the presidential elections will be announced by August 20. They will have to be passed before the supreme court before final confirmation.  There was also a vote for 500 parliamentary seats.

Mr. Kabila's camp is confident he will take more than half the vote and avoid a second round runoff.

These were the first democratic elections in 40 years in Congo and the international community hopes they will bring peace and stability to the country.