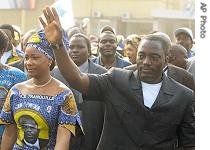 Joseph Kabila and his wife Olive, left, wave to supporters as they arrive at the airport in Kinshasa, Democratic Republic of Congo, Friday, July 28, 2006
elections have been counted, and incumbent President Joseph Kabila is well ahead. Mr. Kabila has 55 percent of the votes counted so far, but tensions are mounting in a capital fiercely opposed to him. 
The announcement of official results from the Democratic Republic of Congo's first free elections in over 40 years has been painfully slow, but is nearing the halfway stage.
With figures for 78 out of 169 voting constituencies published by Congo's electoral commission, President Joseph Kabila is well ahead, with nearly 55 percent.
His nearest rival is still Jean-Pierre Bemba, a former rebel, who was made one of Congo's four vice-presidents under the peace deals that ended the 1998-2003 war that killed four million people.
If any candidate wins more that half of the votes cast during the July 30th elections, which involved 32 presidential candidates and nearly 10,000 parliamentary hopefuls, they will avoid a run-off in late October.
Despite the continued presence of thousands of Congolese and foreign rebels in the east, violent campaigning in parts of the country and a turbulent lead-up to the poll in the capital, election day passed without serious incident.
But the results have highlighted a divide in the country, with Mr. Kabila proving popular in his Swahili-speaking east, but being largely rejected by the Lingala-speaking west, where Mr. Bemba is from.
Mr. Kabila's camp is confident that he will continue to remain above the 50 percent mark.
However, if there is no second round, diplomats in the run-down and volatile capital fear a backlash by a population that believes the international community is backing Mr. Kabila, despite their rejection of him.
The world's largest U.N. peacekeeping force, backed by a one thousand-strong EU force, have been overseeing the elections, said by the U.N. to be the most expensive and complicated it has ever been involved in.