VOA News | Published on July 30, 2006
Colombant report - Download 927k


Listen to Colombant report

Vote counting has started in the war-torn Democratic Republic of Congo amid renewed tension over the outcome in the country's first open election in over 40 years. There was some rioting in a mining town, causing voting to be postponed there, but no widespread violence.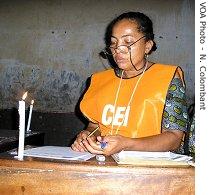 Election officials vote count in Congo with the light of candles

Using candles they bought themselves to see what they were doing, election officials in the Kinshasa neighborhood of Lingwala began a night of counting ballots from Sunday's election.

One party observer says it could be problematic to count ballots without much light, and he did not know what would happen when all the candles would go out.

Meanwhile, in nearby streets also without electricity, militants tore down posters of president and leading candidate, Joseph Kabila. The son of former slain leader, Laurent Desire Kabila, faces more than 30 challengers, including former Uganda-backed rebel leader and vice-president, Jean-Pierre Bemba.

A main opposition leader Etienne Tshisekedi boycotted the process, saying preparations were unfair.

Both his and Bemba's supporters have threatened to kill foreigners if Mr. Kabila is declared the winner in the first round with over 50 percent of the vote. They say the international community wants Mr. Kabila to win to protect European and American interests in the mineral rich country.

U.S. Assistant Secretary for African Affairs Jendayi Frazer, who was one of the observers, says this is untrue. "We the United States do not have any interests in usurping the role of the Congolese people in choosing their destiny. There is no fix," he said.

Results of the presidential election are not expected for three weeks, and if a second round is needed, it would probably not be before October.

Some 9,000 candidates also vied for 500 seats in the country's new parliament.

There were no reports of major violence on election day, and turnout was moderate to high, according to election officials. But in the central mining town of Mbuji-Mayi and the surrounding area, militants burned down several polling centers.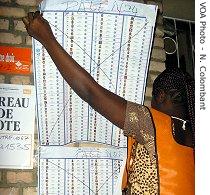 Election workers pack up voting sheets following the closing of the polls
United Nations deputy head, Ross Mountain, said overall he was pleased with how the vote went. Other U.N. officials called it a historic day, and said millions of Congolese voters had displayed great courage by overcoming all sorts of obstacles to take part.
Election observers are expected to release their assessments in the coming days. Foreign donors paid nearly $460 million to help organize the ballot, in an effort to help Congo end years of war, corruption and poverty in one of Africa's biggest and most populous countries.