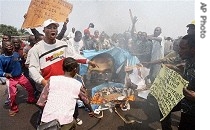 Opposition party supporters burn a poster of President Joseph Kabila during a rally at the city of Kinshasa, Tuesday

Congo's Independent Electoral Commission says recent violence and threats of a boycott will not stop Sunday's national election.

Commission Member Grace Lula tells VOA that commission police, along with troops from the European Union, are standing by to protect citizens at the polls.

She also says the election will be free from fraud, despite domestic and international accusations that the government is trying to influence the outcome.

The polls for president and parliament are meant to be the Democratic Republic of Congo's first open, multiparty elections in 40 years.

But Congo's Catholic Church has urged followers to boycott the vote if concerns about alleged pre-election irregularities are not addressed.

Protesters calling for a boycott clashed with riot police Tuesday in Kinshasa, where they tore down election posters and threw homemade bombs.

There was no immediate word on casualties from the clash.

Other incidents of violence have stained the campaign trail. Last week, four people were killed when gunmen fired on a political rally in North Kivu province. On Sunday, protesters in southern Congo threw stones at the motorcade of President Joseph Kabila. The president was not hurt in the incident.