The Democratic Republic of Congo is beginning campaigning for the first democratic elections in over 40 years. The difficulties the nation faces in staging such an election are evident in the fact that the date has been pushed back several times over the past year. VOA's Catherine Maddux examines how prepared the vast, war-scarred nation is to hold the ballot on July 30.
To get a sense of the scale of what Congo is facing in a month's time, listen to how William Lacy Swing, the United Nation's special representative for the central African country, describes the poll.
William Lacy Swing, center, talks to army representatives

"These are the largest elections that the United Nation's has ever assisted, by far," he explains. "There are 53,000 voting sites, 300,000 election workers to be trained, more than 9,000 candidates for 500 parliamentary seats and 33 candidates for president."

Congo-based reporter David Lewis says, despite the obvious difficulties of setting up a vote after years of ethnic violence and a five-year war that devastated the country, preparations are clearly under way.

"Ballot papers have started arriving, other electoral material has started arriving, and it is being distributed around the country. But this is a huge task," he notes. "It is a vast country. Roads scarcely exist outside any of the cities. And, in some parts, those organizing the elections have to deal with militias and rebels that are still operating in vast parts of the country. "

By that, Lewis means the restive eastern part of the country, which has been insecure since the genocide in neighboring Rwanda 12 years ago. That event sparked violence among rival ethnic groups and the arrival of thousands of armed rebel Hutus, who participated in the massacres.

"Eastern Congo is still awash with various different rebel groups and militias that are still active and have resisted the peace process," he explains. "In [the] Ituri [region], for example, it is still too dangerous for aid workers to travel very far outside the regional capital, Bunia. So, how they are going to actually organize elections remains to be seen. Katanga is another part of the Congo where there are Mayi Mayi militias operating. They have prevented electoral commission officials from traveling to some parts. And, it will be interesting to see if they also prevent voters from going to the polls on July 30. "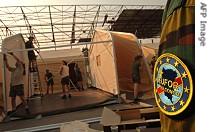 Belgian troops prepare tents at  new EUFOR base at N'Dolo Airbase, Kinshasa

Luckily, Congo will not conduct these historic elections without massive international support.

"The support of the international community for the Congolese transitional process is the strongest since independence in 1960," says U.N. Representative William Swing.

There are about 17,000 United Nations troops in the country, and the European Union is sending 2,000 soldiers to provide security during the balloting. The elections will be observed by members of the Carter Center, the European Union, South Africa and the Southern African Development Community.

But political problems remain. The largest and most important opposition group, The Union for Democracy and Social Progress party, led by veteran politician Etienne Tshisekedi, is boycotting the vote, claiming irregularities have taken place already, including a lack of transparency in setting up the vote.

Polls indicate the current transitional president, 35-year-old Joseph Kabila, is likely to overwhelmingly win a first round of voting.

But the U.N.'s William Swing says, even with all the challenges that lie ahead, there is reason to be encouraged. He points to last year's referendum on a new constitution.

"More than anything else, it is the ardent desire of the Congolese people to have these elections," he says. "Why do I say that? These are people, many of whom walked 30 to 40 kilometers, many of them young women with a baby on their back, older people, who might have voted in 1960, or might not have. But two-thirds of that nearly 26 million went out on a single day and voted 84 percent for the constitution - a piece of paper most had never seen, and very few had ever read."

And freelance reporter David Lewis adds that the independent electoral commission and the international community are determined that parliamentary and presidential elections will take place as planned on July 30, no matter if violence, logistical difficulties or even the opposition boycott create serious problems for voters.