BBC News | Published on November 17, 2009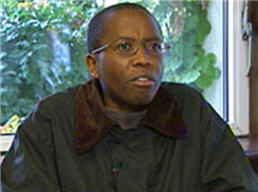 Ignace Murwanashyaka
Police in Germany have arrested two Rwandan militia leaders on suspicion of crimes committed in the east of the Democratic Republic of Congo.
Ignace Murwanashyaka, the leader of the FDLR rebel group, and his aide Straton Musoni were held on suspicion of crimes against humanity and war crimes.
FDLR leaders fled to DR Congo after the Rwanda genocide in which some 800,000 people - mostly ethnic Tutsis - died.
The FDLR's presence in DR Congo has been at the heart of years of unrest.
Mr Murwanaskyaka, 46, was arrested in the city of Karlsruhe, while 48-year-old Mr Musoni was held in the Stuttgart area, German prosecutors said in a statement.
EYEWITNESS

Mark Doyle, BBC News




There is no doubt that Ignace Murwanashyaka has had direct command and control over some of the illegal mining activities of Rwandan rebels operating in eastern DR Congo.

When I travelled in the area earlier this year with a BBC team, it was he who gave us permission to enter the rebel mining strongholds in the South Kivu region.

I had sought permission from rebel officers on the ground. All of these officers declined to give us permission to enter their area until Mr Murwanashyaka agreed.

It was a public relations gaffe on the rebels' part, however, because we managed to prove, despite rebel denials, that they were deeply involved in illegal mineral mining.
The statement said that the pair were the leader and deputy leader of the FDLR (Democratic Forces for the Liberation of Rwanda).
"The accused are strongly suspected, as members of the foreign terrorist organisation FDLR, of committing crimes against humanity and war crimes," it said.
It added that "FDLR militias are believed to have killed several hundred civilians, raped numerous women, plundered and burned countless villages, forcing villagers from their homes and recruiting numerous children as soldiers".
Earlier, UN investigator Dino Mahtani told the BBC that the FDLR was smuggling 40 tonnes of gold a year to pay for their weapons.
The FDLR controls many mines in DR Congo, especially in the North and South Kivu provinces, just across the border from Rwanda.
'Brutal crimes'
Lobby group Human Rights Watch (HRW) has welcomed the arrests.
"Our research clearly indicates that Mr Murwanashyaka has a powerful influence over the FDLR militia who have deliberately targeted and killed hundreds of civilians in eastern Congo and that he is directly linked to the crimes," said HRW DR Congo expert Anneke Van Woudenberg.
"Mr Murwanashyaka's arrest on war crimes and crimes against humanity is a welcome step to bringing justice for these brutal crimes," she added.
Mr Murwanashyaka has lived in Germany for several years, but it was not immediately clear why he has been arrested now.
He was among 15 people whose assets were frozen by the Security Council in 2005 on suspicion of involvement in war crimes in Rwanda or DR Congo.
The FDLR's presence in eastern DR Congo has led to years of fighting in the region, and Rwanda has twice invaded, saying it is trying to wipe them out.
The United Nations has been helping the Congolese army tackle the Hutu rebel group since January 2009 - an operation which has been criticised by human rights groups, who say Hutu civilians have been targeted.
Some FDLR leaders are also suspected of involvement in the 1994 Rwandan genocide.