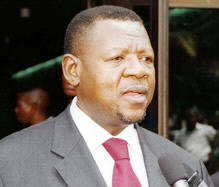 Lambert Mende
Four members of the government held a press conference on Wednesday to respond to the latest Human Rights Watch report on the Democratic Republic of Congo. The government spokesperson, Lambert Mende, challenged the rights group to provide proof of its allegations. He asked Human Rights Watch to list the names of political opponents who were allegedly killed by government agents in the last two years since the election of President Joseph Kabila.
Critics of the report say it is full of allegations for which the rights group provides no proof. Many allegations are simply based on hearsay or other reports from Congolese organisations opposed to the government.
The government has also pointed out Human Rights Watch lead researcher on Congo, Anneke Van Woudenberg, apparent bias against the authorities in Kinshasa.
During a recent interview with the French service of the Voice of America, at the height of the rebels' advance towards Goma, she wondered if Congolese authorities "had the brains", in other words the intelligence, to fight warlord Laurent Nkunda.
In another interview with Voice of America in Kinshasa this week, after the release of the report, Van Woudenberg suggested that people should not be so focused on what's going on in eastern Congo and should also focus on western Congo.
More then 5,400,000 people have died in Congo since 1998, most of them in eastern Congo, because of wars launched by foreign-backed rebels. Eastern Congo is plagued today with an indescribable scale of violence against women and children. Although Congolese troops have recently been implicated in some cases of rapes and looting, most of the violence has for years been perpetrated by the various militia and rebel groups in the region.
For Anneke Van Woudenberg to imply that the world should turn its focus to western Congo, or that the government is implicated in human rights violations comparable to those being perpetrated daily by Laurent Nkunda's rebels, is irresponsible and further proof of the vicious intentions behind the release of this report and its timing.
The timing for the release of this report is also suspicious because Congolese authorities are now trying to garner international support in their fight against the Rwandan-backed rebels led by Laurent Nkunda.
Apart from trying to undermine the Congolese government, the rights group may also be trying to gain publicity, and boost its year-end fundraising operations, by making these allegations at a time when the international community is focused on finding a solution to the humanitarian catastrophe caused by recent rebel advances in North Kivu.
Although Human Rights Watch called for the arrest of Laurent Nkunda for war crimes in 2006, the rights group is yet to compile any sizable report of the numerous human rights abuses and war crimes the warlord has been accused of committing.
On the web: Congo News Agency