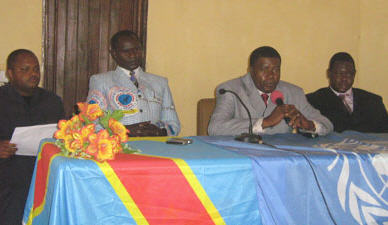 İP. Paglialonga/Monuc

The technical validation of the "Priority Action Plan for the Stabilisation and Community Reconstruction of Ituri" took place on Thursday 8 May 2008 in Bunia, Ituri district, during a workshop chaired by Mr. François Xavier Kubele Nesele, provincial Minister for planning, budget, trade, industry, and small and medium-sized enterprises.

This participative process held by the divisions and engineering services of the Congolese state went ahead with the support of MONUC, the UNDP, UN agencies, and with the participation of local actors such as civil society, NGOs and community representatives.

The workshop participants made the last amendments to the document concerning the five priority sectors identified last March for the Ituri community reconstruction plan. These are: security; education; health; transport and communication; and agriculture animal breeding and fishing.

The development of these priority actions will contribute to address the factors of instability and the resurgence of conflict, previously identified by these same actors.

The workshop proceeded according to a methodology which privileged the active participation of development actors, community representatives and the experts from various state engineering services, at both district and territorial levels.

After work in committee, each group proceeded to a series of follow up debates.

The Priority Action Plan will have to be endorsed by the Parliament and the Provincial government before presentation to donors, scheduled for the end of May in Kinshasa.

UNDP Ituri head Jonas Mfouatie said: "we have started a participative consensus on the priority needs for stabilisation and reconstruction in Ituri, having taken into account all the effective national measures."

"This instrument will be for us a whole a tool of advocacy, of mobilisation of resources and of programming of our respective activities, which will align themselves from now on to the confirmed priorities of the communities of Ituri."

It should be recalled that in 2007, the process of pacification and security reached its first milestone with the dismantling of all the militia through the demobilization of more than 25,000 combatants and 10,000 children associated with armed forces and groups, within the framework of the three phase programme of Disarmament, Demobilisation and Reintegration (DDR).

The United Nations Office for the Coordination of Humanitarian Affairs (OCHA) has so far confirmed the return to their communities of origin of more than 900,000 people in Ituri.