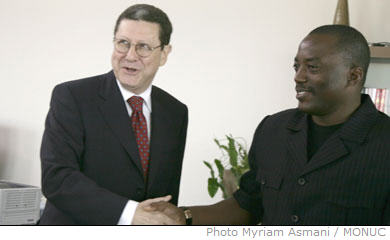 Alan Doss, the new United Nations envoy to the Democratic Republic of Congo (DRC), has met with the country's President and other officials on issues of peace, security and development in the strife-torn nation.
Mr. Doss, the Secretary-General's Special Representative and head of the UN peacekeeping operation in the DRC, known as MONUC, met yesterday with President Joseph Kabila in the capital Kinshasa, UN spokesperson Michele Montas told reporters in New York.
He assured the President that he intended to contribute to the consolidation of peace in the DRC, and also reaffirmed the UN's support for the President's initiative on the conference on peace, security and development in the country's north-eastern Kivu provinces, which began on 6 January.
The conference is being held in Goma, the capital of North Kivu province, where fighting has escalated in recent months between Government troops and rebels allied with the dissident army general, Laurent Nkunda, forcing hundreds of thousands of civilians to flee their homes.
This weekend the conference heard presentations by South Kivu community leaders and by representatives of various armed groups opposed to the Government. It is expected to conclude on 17 January.
Today, Mr. Doss met with the President of the Senate and later with the Prime Minister, whom he assured of MONUC's firm commitment in helping the Government restore its authority across the vast country, Ms. Montas added.
Although the DRC held its first democratic elections in over four decades in 2006, solidifying its transition from a six-year civil war that cost 4 million lives, fighting has continued in the volatile east of the vast country.