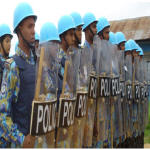 Aiming to reduce traffic accidents and foster respect for the rules of the road, the United Nations peacekeeping mission in the Democratic Republic of the Congo (MONUC) has completed training of nearly 50 police officers in Ituri province.
The group of 49, including four women, earned certificates after completing a training programme in road traffic policing which covered human rights, ethics, gender, child welfare and key legislation.
The training, held from 30 October to 22 November, was organized by the MONUC Ituri senior police officers and their colleagues in Kinshasa, with support from the mission's Human Rights Division and the local Red Cross.
"More work needs to be accomplished with our local partners," said Ndzie Ngoumou, head of MONUC police. "It is important that they understand the need for good co-operation with police officers by the installation of traffic lights and traffic control measures on the principal crossroads."
Over 100 Congolese police have also recently received training in law and order and professional intervention techniques, according to MONUC.