IRIN | Published on March 17, 2011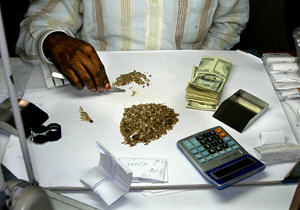 Big business... But little of the hundreds of millions of dollars generated annually by DRC's mineral sector ends up in state coffers (file photo)
KINSHASA, 17 March 2011 (IRIN) - Various stakeholders in the Democratic Republic of Congo's mining sector have signed a code of conduct designed to reduce fraud and increase transparency in an industry that has played a key role in the armed violence that has ravaged the east of the country for years, but there is still concern about illegal mining and the military's role.
The adoption of the code coincides with the lifting of a mining ban slapped on the eastern provinces of North Kivu, South Kivu and Maniema by President Joseph Kabila in a purported effort to rid the industry of the "mafia-like networks" that run much of it. It also comes before stringent legislation against the importation of conflict minerals due to be introduced by the US in April.
About 1.7 million people are displaced in DRC, mostly because of conflicts involving domestic and foreign armed groups in the east, a region rich in minerals such as gold, coltan, lithium, cassiterite and wolframite. Armed groups, including the DRC national army (FARDC), are heavily implicated in the industry.
"Shortly after President Kabila's [ban], we started taking measures aimed at ending the massive fraud that is rampant in eastern Congo's mining trade. We have deployed agents to trace minerals from digging areas to export locations and to label and certify them, so we can allow the mining trade to resume," Minister of Mines Martin Kabwelulu said at the end of a four-day seminar on the new code of conduct.
The seminar brought together national and regional government officials, representatives of artisanal miners, mineral buyers and traders, as well as civil society groups, all of whom signed up to the code.
Key measures include:

- All artisanal miners and mineral traders must obtain permits from provincial governments;
- Miners must sell only to authorized buyers. Such buyers must operate premises of solid construction;
- Selling within sites of exploitation is prohibited;
- Miners can work only in authorized areas;
- Minerals must be traded for domestic or foreign currency and must not be bartered;
- Traders must disclose their accounts to provincial mining officials and provide full contact details of their customers;
- A prohibition on the employment of children in mines; and
- Civil society groups will sensitize local populations about the new measures.
"Many trading posts closed after President Kabila banned the minerals trade in eastern DR Congo, so we have been waiting for this moment. We reached a point where our lives became harsh and we no longer had any other source of income," Bagalwa Basimine, a representative of a group of minerals merchants in South-Kivu province, told IRIN on the sidelines of the seminar.
DRC officials say the nature of the industry as was deprived the country of millions that could have been spent on development projects: whereas the provincial governments in North Kivu, South Kivu and Maniema earn on average US$100,000 a year, minerals smuggled to Rwanda and Burundi, they claim, earn those countries between $5 million and $10 million a year in tax revenue, according to South Kivu Governor Marcellin Cisambo.
"With these new regulations, people involved in mining will have to work with local authorities," said Paluku Kahongya, governor of North-Kivu Province. He added that anyone found to have links with armed groups would be excluded from the mining sector.
"If in a given area there is no health centre, they will have to work together to sponsor one; if there is no water supply, they have to fund one; if there is no school, they will sponsor the construction of schools since children living in areas where they dig for minerals have the right to attend school," he said. Both governors and traders are to invest in social development projects under the new rules.
Policing the military
Many are sceptical that the new regulations will successfully control armed groups and stop illegal mining. While the regulations have provided a list of requirements for different actors involved, they exclude a number of important groups mentioned in a report on illegal mining and armed groups submitted to the UN Security Council in November 2010.
"The code represents everyone who is supposed to be in the mining sector," Gregory Mthembu-Salter, a consultant for the report, told IRIN. "The people left out are people who are in the mining sector and shouldn't be. Obviously that's the armed groups and the FARDC. The Group of Experts has identified criminal networks in the FARDC and their illegal involvement in mining as one of the major threats to security in the affected provinces."
According to the report, this involvement extends to illegal taxation at mining sites, protection racketeering and coercive control and looting of mining areas.
The involvement of the army in mining, particularly those integrated into the military from rebel groups, has been a source of concern for some time. In September 2010, Kabila said he would move several battalions from the Kivu provinces, where soldiers are involved in mining, to other parts of the country.
Kabwelulu said additional measures had been put in place to prevent soldiers from mining. "The role of the army and other security services is to protect the country and pacify it in a post-war state. The army, police and security services have already been notified of the new regulations. Any soldier caught trading minerals is breaking the law and this means he should be punished."
But Annie Dunnebacke of Global Witness claims little has been done by the government to dislodge the military from the mines and that elements in the military tightened their grip on the mineral trade while the ban was in place. "Members of the national army make tens of millions of dollars per year through extortion at mine sites and along mineral transportation routes. Competition over control of the region's mineral wealth has become an incentive for all warring parties to keep on fighting," she told IRIN. Witnesses and human rights groups said government soldiers were sending young men into mines to dig up minerals for them shortly after the ban was introduced.
Mthembu-Salter said the situation could be improved if more stringent measures were put in place for soldiers caught mining. "The FARDC could commit to providing security at mine sites, but not being involved in any mining activities. Now an indication of seriousness in this regard might be for the military justice system to make some headway in their prosecutions of soldiers who have been caught doing this."