VOA News | Published on November 20, 2010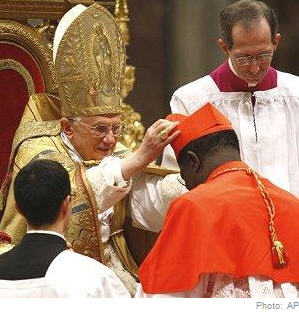 Newly-elevated Cardinal Laurent Monsengwo Pasinya, of the Democratic Republic of Congo, receives the red three-cornered biretta hat from the Pope during a consistory inside St. Peter's Basilica, at the Vatican, 20 Nov 2010
Pope Benedict has appointed 24 new cardinals. The ordination, known as a consistory, was performed in a lavish ceremony Saturday in Saint Peter's Basilica.
Pope Benedict XVI read each name of the 24 "princes of the church" in Latin to roaring applause from the pews and smiles from the cardinals themselves. The new cardinals wore scarlet cassocks - to signify their willingness to shed blood for the church.
During the ceremony, the new cardinals pledged to obey the pope. The pope spoke to them of their new mission as cardinals. He said they must devote themselves totally to the church and to Christ.
In his homily, he asked the faithful to pray for them:
The pope asked that the Lord's spirit support these new cardinals in the commitment of service to the church, even if necessary to shed their blood, always ready to respond to whatever is asked.
A cardinal is a senior official of the catholic church. Their main task is to offer the pope advice and eventually elect his successor. There are now 203 cardinals in the elite group, 121 of whom are under age 80 and therefore eligible to vote in a secret conclave.
This is the third time Pope Benedict has held a consistory to create new cardinals since his election in 2005. He has now chosen 40 percent of the College of Cardinals, making the group more conservative and tradition-minded like him.
Ten of the new cardinals are Italian. This has fueled speculation that after Benedict, who is German, the leadership of the world's one billion Catholics could swing back to Italy.
Just as when it originated more than 850 years ago, the College of Cardinals remains an all-male, all-clerical body that advises the pope.
The cardinals from around the world held a rare gathering with Pope Benedict Friday to discuss religious freedom, sexual abuse of children by priests and accepting converts from the Anglican Church.
At the end of the meeting, the Vatican said new guidelines are being prepared for bishops on how to deal with the sexual abuse of children by priests.