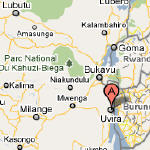 President Jospeh Kabila has declared two days of mourning following the death of 235 people in an oil tanker truck explosion in eastern Congo.
In a speech to the nation on Sunday, president Kabila said that the Congolese flag will fly at half-mast on Monday and Tuesday to honor the memory of those who lost their lives on Friday night in the town of Sange, near Uvira.
The tanker truck was full of gasoline and overturned while trying to avoid a parked vehicle. Oil started gushing out of the truck before exploding. The cause of the explosion is not yet clear.
President Kabila said he has ordered an investigation and asked the government to take measures to prevent such a tragedy from ever happening again.
At least 104 people were wounded in the explosion. Many of the victims were transferred to Hospitals in Uvira and Bukavu.
Health Minister Victor Makweng Kaput arrived in Bukavu on Sunday, where he visited burn victims of the fire at the Panzi Hospital.

On the web: Congo News Agency