The United States seeks a new era of partnership with the DRC - Hillary Clinton

U.S. Secretary of State Hillary Clinton | Published on June 30, 2010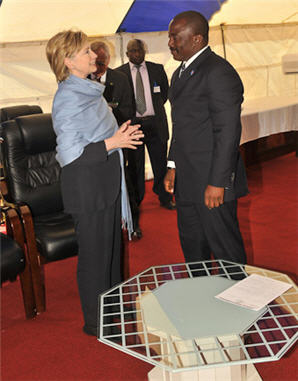 U.S. Secretary of State Hillary Clinton meets with President Joseph Kabila in Goma on August 12, 2009.
On behalf of President Obama and the people of the United States, I congratulate the people of the Democratic Republic of the Congo (DRC) on the occasion of your fiftieth anniversary of independence this June 30.

The Congolese people have shown a remarkable resilience of spirit in the face of many hardships. As I said on my visit last year, the United States seeks a new era of partnership with the DRC and the Congolese people. We are ready to work with you to encourage sustainable development, curb corruption, improve governance, train a more professional military, and end the terrible plague of sexual and gender-based violence. But the future of your country is in your hands. We encourage you to build upon the foundations of democracy that you have already laid and continue working to bring peace and stability to your nation and the wider region.

On this anniversary, I reaffirm our faith in the promise of the Congolese people and the prospects for a better future.