ICRC | Published on September 26, 2007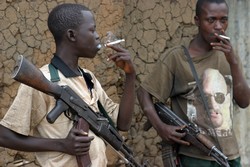 The ongoing peace process in the Democratic Republic of the Congo is allowing some fighters to lay down their weapons and begin a peaceful life. The ICRC is helping to demobilize child soldiers so that they can return to their families. Journalist Isabel Coello reports.
It has been a long journey and Cyprien is eager to go home. With a knowing smile, he boasts that he is 17 years old. But the records held by the ICRC say otherwise. He is in fact only 15.
Six years ago, he volunteered to become a child soldier after vanishing from his house in the Mgundu-Murambi area of Masisi territory, a small part of the vast North Kivu province in the east of the Democratic Republic of Congo (DRC).
"My mom was always scolding me. I was fed up. I didn't go to school and hardly had any work to do," he says. "One day, I just left without saying a word."
He fought for different armed opposition groups. Today Cyprien, alias "Rambo", admits he is happy to go home, but he also worries about how he will fend for himself, now that he is no longer a soldier.
"As fighters we can have everything we want. The good girls and the money are for us. After all these years, I will arrive empty-handed. I have no idea what I will live on," he says.
A high number of separated children
A country the size of Western Europe, DRC is in the middle of a precarious transition to peace. The conflict brought in several heavily armed groups and armies from neighbouring countries.
As part of the peace process, hundreds of child soldiers like Cyprien and his colleague Jean de Dieu, who is bouncing along the impossible roads of Masisi in a second ICRC vehicle, are being demobilized and sent home.
The ICRC does not take part directly in the demobilization process but the organization carries out the reunification of some of the former soldiers with their families, especially in areas where ICRC benefits from access that other agencies do not enjoy.
Part of ICRC's mandate is the re-establishment of family links in situations where, due to conflict, family members have lost touch with one another. Between January and June 2007, ICRC has reunited 32 children with their families in North Kivu Province alone. Among them, 20 children had been released from the armed forces and 12 were unaccompanied minors.
"The number of children waiting for reunification remains high," says Yann Bonzon, head of ICRC's sub-delegation in Goma. "According to estimates, there are between 400 and 500 youngsters in North Kivu who remain in the different armed groups," he adds.
Felix Ndagijimana is head of CAJED, the transit centre in Goma which, since it opened in March 2005, has hosted more than 900 former child soldiers. Demobilized from all the different armed groups and from various provinces, these boys and girls are waiting to be reunited with their families.
"They are usually violent and aggressive on their arrival, but this dies down as they spend more time in the centre and our counsellors have a chance to work with them. The trauma is not automatic, it will come later, when they remember what they have done," Ndagijimana says.
According to CAJED's headmaster, the phenomenon of child soldiers is a relatively recent one in the DRC. "It is something that we had never seen in the country, not even in the armed groups that operated in the sixties. We have only witnessed it since the war broke out in 1996," he says.
"Children are more malleable than adults. They do not know what a weapon is and they use it like a musical instrument. They have no conscience or judgement, so it is much easier to recruit them," he explains.
Happy to be back
Now back in his village, Jean de Dieu is followed by a swarm of younger children right up to the doorstep of his house, where he is greeted by his family.
"I am very happy to be home," he says shyly, cowing his eyes as if he were a naughty child being reprimanded.
"I was a child soldier for less than a year but I didn't like it, because I could not be with my family. I don't think I will ever go back," he confides.
His dad, too, is elated. "I am so happy to have my son back. I thought I would never see him again. He left without even saying goodbye."
"Rambo," less lucky, will be greeted later by a slightly tipsy uncle who has committed himself to mediating in order to ensure that Cyprien's mother accepts him back home.
"Reintegration can be the hardest part for these children," says Bonzon. "Very often they are not accepted by their families. On top of that, those who engaged in the fighting when they were very young have not attended school."
"If I cannot work I will go back to the army," were Cyprien's defiant words during the car ride home. Fighters under 18 years old like him do not receive any payout after demobilization, contrary to their adult counterparts.
But, for now, as his Uncle hugs him, "Rambo" is all smiles.
Reuniting families is no easy task for the ICRC. "The main difficulty is the insecurity in the province," Bonzon explains. "We are in the middle of a conflict with a number of armed groups that fight each other regularly. This makes any travel or movement very problematic."
Nevertheless, the head of the sub-delegation acknowledges, it is one of the most rewarding activities within ICRC. "Other activities are less tangible, or have long-term results one does not always see. In this case, to be able to find the families of the kids is already difficult enough. But to bring the kids back to them...that is just extraordinary."
Note: the names of the children in this article have been changed to protect their identities. The reunification took place on 21 August 2007.