Corporate Council on Africa | Published on September 21, 2007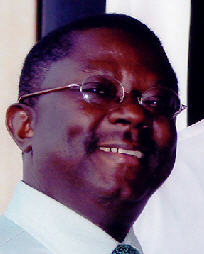 Washington, DC - Alieu Conteh, Chairman of Vodacom Congo and developer of the nation's first Global System for Mobile communications digital network, will provide remarks during the "Trade on the River Congo" workshop as part of The Corporate Council on Africa (CCA) 2007 U.S.-Africa Infrastructure Conference, it was announced today.
The 2nd annual U.S.-Africa Infrastructure Conference will be held at the Grand Hyatt in Washington, D.C. from October 8-10, 2007.
"Before Vodacom Congo, only ten thousand people living in the Congo-mainly business people, foreigners and government employees-had mobile handsets," said CCA PRESIDENT STEPHEN HAYES. "Now, Vodacom Congo has more than three million subscribers. Vodacom Congo, under Mr. Conteh's leadership, is a success story that cannot be ignored and an extraordinary example of how a business can grow in Africa and we are pleased to have him share his experiences at the conference."
Vodacom Congo is the first and only mobile network in Congo and it offers customers Internet access through the GPRS and EDGE systems.
In addition to offering Congolese citizens nationwide and global communications systems, Mr. Conteh is currently working on the implementation of the second 3G network on the continent, after South Africa.
Aptly titled "Building on Stability," this year's U.S.-Africa Infrastructure Conference will highlight African countries that have laid the foundation for investment in infrastructure development through sound economic policies.
A key aspect of this year's conference will be the increased focus on risk management in Africa. Experts will discuss best practices, and strategies to minimize risks. In addition, business opportunities in key growth sectors including water, security, energy, roads and rails, transportation, as well as information and communications technology (ICT), will be highlighted.
To date, event sponsors include the DynCorp International, Raytheon Company, Global Strategies Group, General Electric, U.S. Agency for International Development, U.S. Department of Transportation, OPIC, African Business and New African magazines, All Africa Global Media, Africa Investor and Times Publications.
The private sector invested over $4.5 billion in infrastructure in Africa in 2005, according to a 2006 annual report of the Infrastructure Consortium on Africa. Almost 75% was invested in mobile telephony, but some countries also received investments from Independent Power Producers (IPPs), and from concessionaires taking over the management of rails, ports, and power distribution. China has committed to lending $5 billion to various African countries over the next three years, mostly for infrastructure investments.
CCA, established in 1993, is a nonpartisan 501 (c) (3) membership organization of nearly 200 U.S. companies dedicated to strengthening the commercial relationship between the U.S. and Africa. CCA members represent nearly 85 percent of total U.S. private sector investments in Africa. Visit CCA's website at http://www.africacncl.org for up-to-date information on the organization and upcoming events.