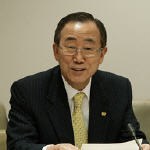 United Nations Secretary-General Ban Ki-moon today called for action to resolve the crisis in the Democratic Republic of the Congo's (DRC) volatile eastern region, where some 700,000 people have been internally displaced.
"The Secretary-General is deeply concerned at the deteriorating security situation in the South and North Kivu provinces in the eastern Democratic Republic of the Congo," his spokesperson said in a statement, pointing to the "dire humanitarian consequences" there.
The statement called on all key players to use political measures to resolve the crisis, including by carrying out a comprehensive strategy aimed at ensuring the extension of State authority and the promotion of reconciliation, recovery and development in North and South Kivu.
"The Secretary-General urges the Government of the Democratic Republic of the Congo and all concerned to pursue an inclusive dialogue in the Kivus," spokesperson Michele Montas said.
Mr. Ban also called on regional and international partners to support efforts to ease tensions in the area, and encouraged the Governments of Burundi, the DRC, Rwanda and Uganda to fully cooperate in addressing the root causes of instability.