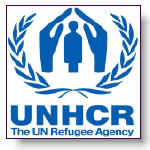 Today, in the North Kivu province of the eastern Democratic Republic of the Congo (DRC), we along with UNICEF are making a joint distribution of assistance to more than 10,000 internally displaced people in the Buganga area.
The province is facing the worst displacement situation in three years, with 163,000 people newly displaced since January - bringing to a total 650,000 people internally displaced in the province.
We are increasingly concerned by the spiralling displacement and atrocities in eastern DRC. With heightened tensions and the build-up of military forces, the situation risks turning into humanitarian and human rights disaster. We are concerned that fresh military operations by renegade brigades, militia groups or government forces will result in greater suffering for the civilian population without leading to more stability.
The displaced people receiving aid today - blankets, kitchen sets, water containers and soap - fled fighting between mixed brigades and militia groups in May and are now living with host families. But the means of host families are becoming drained and as a result, the number of sites for displaced has expanded to nine, leaving people more exposed to disease and violence as the militarization of the area continues. UNHCR has deployed camp management teams to North Kivu province to help improve living conditions.
However, access to these sites is a problem for humanitarian agencies because of the worsening security situation. Our field monitoring teams are regularly visiting displacement areas to assess the needs and record human rights violations. Over the coming days we plan to visit more sites in the Kisharu area, where the situation is rapidly deteriorating. We coordinate with UN peacekeeping troops to deploy mobile teams to sites where displaced need physical protection.
We urge all armed parties in North Kivu to immediately halt direct attacks on civilians and atrocities which include burning of villages, widespread pillaging and raping of women.