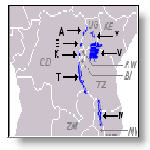 The army chiefs of Rwanda, Burundi, Democratic Republic of Congo and Uganda have agreed to jointly take military action against rebel groups operating in the area. Cathy Majtenyi reports for VOA from Nairobi.
Following their one-day meeting in Burundi's capital Bujumbura, the army chiefs late Wednesday presented their statement pledging to collaborate on what they say are "military operations against the negative forces" so that peace and stability can be restored to the area.
"We started by identifying the most wanted people from all the four countries. The procedure is very long," said Ruth Nankabirwa, Uganda's Minister of State for Defense. "We have asked the chiefs of defense to sit and go through the list. The chiefs of defense will sit and agree on how to approach the method of dealing with different groups which are hosted in different countries."
There have been clashes between countries in the past over the issue of cross-border investigations and apprehensions of rebels.
For instance, periodic forays into DRC by the Rwandan army to hunt down the Hutu extremists responsible for Rwanda's 1994 genocide caused tensions between DRC and Rwanda.
The Great Lakes area has been a cauldron of instability for decades.
Burundi is just emerging from a civil war that broke out in 1993 after the Tutsi-dominated army assassinated the country's first democratically elected president, who was a Hutu. That conflict claimed some 300,000 people. The government is currently negotiating with the last remaining rebel group, the FNL.
An estimated 800,000 mostly Tutsis and moderate Hutus were slaughtered during Rwanda's 1994 genocide. Many of the Hutu extremists responsible for the mass murder fled into the Democratic Republic of Congo.
A number of rebel groups operating in DRC have caused havoc in that country throughout the years and have also crossed over into Burundi to terrorize Congolese refugees living in Burundi.
The army heads' statement follows on the heels of the revival of the Economic Community for the Great Lakes Region, known by its French initials CEPGL.
Under that agreement, Rwanda, Burundi and DRC will collaborate on programs in six priority areas: peace, security, and good governance; agriculture; energy; infrastructure; education and research and investments.