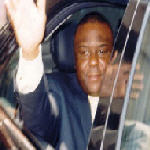 Today at 2:00a.m. local time, Senator Jean-Pierre Bemba, who has been at the South African Embassy since the tragic events of March 22-24, departed from the Democratic Republic of Congo (DRC) for Portugal to receive medical treatment.
The news was referred in a statement, received by MISNA, by Kemail Saiki, the spokesperson for the United Nations Mission in DR-Congo (MONUC), specifying that Bemba - leader of the former rebels of the Congolese Liberation Movement (MLC) that became the main opposition party - was authorised to leave Kinshasa by the Senate. MONUC peacekeepers, "upon the request of Congolese authorities", assisted in Bemba's departure, along with his wife and five children, for Lisbon.
Bemba had requested to be evacuated to Lisbon, where he has a home, already a day after the clashes between the Congolese armed forces (FARDC) and his personal guards that at the end of March, according to the European Union, left "between 250 and 600" dead. Despite a written commitment "not to engage in political activities" while in Portugal and the singing of an agreement "in principle" on conditions with the presidency, 15 days passed before the Senate conceded authorisation. A necessary permit given that in the case of absence from over a fourth of parliamentary sessions he would risk the revocation of his senatorial post. Congo's State Prosecutor, Tshimanga Mukeba, a week ago denied reports of a pending arrest warrant on high treason charges for Bemba, protected by parliamentary immunity, specifying that a "committal proceeding" was opened.
Bemba, defeated by Joseph Kabila in the October presidential runoff and elected in the January senate vote, had pledged to conduct a "strong and Republican opposition", but had refused to disarm his guards and allow their reintegration in the regular forces, judging as insufficient the 12 policemen assigned to his protection by presidential decree. This refusal sparked the fighting of the end of March. According to diplomatic sources, this "medical exile" for treatment of an old leg injury should facilitate "a restructuring of the opposition" in a still tense atmosphere.
After remaining silent for three weeks, the MLC on Sunday denounced threats against its leaders, arbitrary arrests and the presence of presidential guards in its offices. The MLC legislators however reiterated their determination to safeguard the democratic process: they continue to attend Parliament assemblies, in which yesterday they obtained by consensus two of the seven presidencies of the permanent commissions.