VOA News | Published on March 07, 2007
Colombant report - Download 275k


Listen to Colombant report

The United Nations is focusing attention on child soldiers in Africa. One country where children are still feeling the terrible effects of war is the Democratic Republic of Congo. VOA's Nico Colombant reports from our regional bureau in Dakar.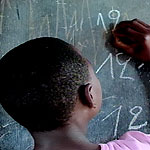 Former Congo child soldiers now receive their lessons in the classroom

In the eastern city, Bukavu, near the border with Rwanda, former child soldiers are getting free language lessons at a facility run by the United Nations children's agency, UNICEF.

The director, Murhabazi Nawegabe, points to a board indicating which militias the children came from.

One young woman used to be a sexual slave for one of the militias. She says she ran away and wants to stay here.

The director says he hopes Congo's new army will have no children. He says he hopes children in his country will be allowed to have a life with notebooks and pens, rather than guns and grenades.

Nawegabe says the recently-appointed government needs to do more to make sure children can be fully rehabilitated. He says many are rejected by their families because of what has happened to them.

U.N. officials say several thousand children are still in armed groups that have yet to be demobilized. They say they are paying close attention to issues surrounding former child soldiers.

The U.N special representative for children and armed conflict is on a week-long visit.

After meeting with top government officials, including the defense minister, earlier this week, Radhika Coomaraswamy says she is optimistic.

"For the first time, a commitment is being made to deal with these issues very effectively," she says. "I think the issue of children will be kept in the public eye because, if they do not deal with it - especially with the armed children - and do not reintegrate them, possibly these children will become centers of instability."

But, last month, other U.N. officials said they had evidence several hundred children had already been deployed as soldiers within the country's new post-war army.