UN News Service | Published on December 20, 2006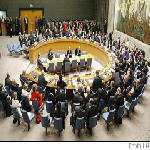 The Security Council today backed the recently concluded Pact on Security, Stability and Development in the Great Lakes region of Africa, which a United Nations envoy said holds the potential to consolidate gains in a part of the world that has been the scene of numerous deadly conflicts.
In a statement read out by its President, Nassir Abdulaziz Al-Nasser of Qatar, the Council commended the countries of the region for the successful conclusion of last week's Second Summit of the International Conference on the Great Lakes Region, where the agreement was reached.
It also welcomed the decision to establish a regional follow-up mechanism to include a Conference secretariat and to establish its offices in Bujumbura, Burundi.
The Council extended the mandate of the Office of the Secretary-General's Special Representative in the region for a final period of three months, until 31 March 2007, with a view to ensuring "regional ownership" of the follow-up mechanism and successfully completing the transition to the conference secretariat.
In addition, the Council appealed for international assistance for the Special Fund for Reconstruction and Development in the region and for implementation of the Pact by the parties.
Special Representative Ibrahima Fall told the 15-member body that the Pact came with a twofold commitment by the 11 countries involved to ratify it quickly and to respect its spirit pending ratification.
The collective political will of the region's leaders was reflected through the preparatory process, which included the participation of representatives of the private sector, non-governmental organizations (NGOs) and others. "These actors made a contribution at every level," he said.
Attending the summit in Nairobi when the Pact was adopted were six Heads of State and one Head of Government, representing Burundi, the Democratic Republic of the Congo (DRC), Uganda, Tanzania, Rwanda and Kenya.
A Protocol on Non-Aggression and Mutual Defence in the Great Lakes Region establishes the foundations to prevent conflicts. Member States also pledged to criminalize any act of aggression or subversion against other States by individuals or groups operating in their respective States.
Among the many participants at today's Council meeting was Liberata Mulamula, First Executive Secretary of the Secretariat of the International Conference on the Great Lakes Region, who said the body would face the "enormous" task of putting into place legal, financial and administrative processes for implementing the Pact.