UN News Service | Published on December 20, 2006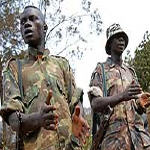 Security in the Democratic Republic of the Congo (DRC) has improved, with numerous militia groups joining the United Nations-run disarmament programme, and calm returning in the east after fighting between the Congolese Army and partisans of a rogue general, the UN Mission in the DRC (MONUC) reported today.
"The good progress made in the DDR [disarmament, demobilization and reintegration] process has had a positive impact on the improvement of the general security situation in the DRC, with 4,896 militia surrenders between the month of June and the start of December," MONUC military spokesman Lt. Col. Didier Rancher told a news conference in Kinshasa, the capital.
The positive news came just two weeks after President Joseph Kabila was sworn in following the first democratic elections in the strife-torn country in more than 40 years, the largest and most complex elections that the UN has ever helped to organize.
The polls crowned a seven-year UN effort to bring peace and democracy to the vast country after a brutal six-year civil war that cost 4 million lives through fighting and attendant hunger and disease, widely considered the most lethal conflict in the world since World War II. Factional fighting has remained a problem, especially in the east.
"MONUC welcomes what one could call a 'general tendency' in the area of surrenders and demobilization, which will reduce considerably the tension and unease in the provinces," Lt. Col. Didier Rancher. "In this sense, a framework of engagement was signed by the dissident leaders on December 14 and 15."
In Ituri and Kivu provinces hundreds of militia members joined the DDR process just this week. In North Kivu, at a UN-brokered meeting with Congolese military leaders, commanders loyal to rogue General Laurent Nkunda, who launched an attack near the town of sake last month, agreed to ensure total freedom of movement for civilians as well as an imminent withdrawal of his fighters from occupied areas in the province.
MONUC welcomed the fact that Gen. Nkunda was now at the negotiating table. A second meeting between the Army and Gen. Nkunda's dissidents is scheduled for next week. UN peacekeepers backed by attack helicopters intervened on the side of the army last month to stall the advance of his troops on the provincial capital, Goma.
The UN Office for the Coordination of Humanitarian Affairs (OCHA) reported today that the fighting there had forced 65,000 people to flee the town of Sake and other localities.
The UN Rapid Response Mechanism, which OCHA operates jointly with the UN Children's Fund (UNICEF), aided 35,000 people with blankets, plastic sheeting and cooking sets.
Water and sanitation services have also been provided, including the construction of latrines and distribution of chlorination tablets. Another 20,000 people received food aid from the UN World Food Programme (WFP).