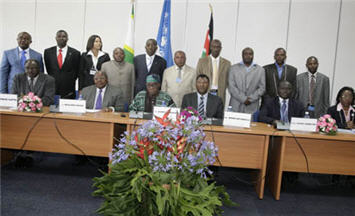 The latest round of the United Nations-supported dialogue between the Government of the Democratic Republic of the Congo (DRC) and a leading rebel group entered into its substantive phase today, in a bid to quell the violence engulfing the vast nation's east.
The third session of talks kicked off between the Government and the mainly Tutsi group known as the National Congress in Defense of the People (CNDP) today in the Kenyan capital, Nairobi.
The escalating conflict between Government forces (FARDC) and the CNDP has uprooted an estimated 250,000 people since late August on top of the 800,000 already displaced in the region, mainly in North Kivu province, which borders Rwanda and Uganda.
Olusegun Obasanjo, the Secretary-General's Special Envoy and former Nigerian president, is facilitating the dialogue, along with Benjamin Mkapa, representing the African Union (AU) and the International Conference on the Great Lakes (ICGLR) who is also the former leader of Tanzania.
In the absence of Mr. Obasanjo, Mr. Mkapa chaired today's talks and stressed the humanitarian consequences of the clashes.
It will be "critical for you during this session to reach an understanding concerning a formal and joint cessation of hostilities, or truce, in order to alleviate the human suffering that continues in the areas affected by conflict," he said.
The UN envoy is currently holding consultations, including on the possibility of holding a gathering this month of the leaders of Great Lakes nations to update them on progress made so far and obstacles that remain in achieving peace between the Government and the CNDP.
He is scheduled to join the dialogue later this week.