Congo Planet | Published on December 07, 2007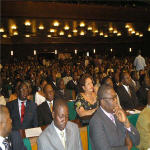 In his state of the nation speech on December 6th, President Kabila warned against a rush to revise the constitution everytime there is a percieved problem with the functionning of the country's instutitions.
He warned the Members of Parliament and Senators convened for the occasion in a joint session of the Congress "against the temptation to try to settle all possible malfunctioning of institutions through a constitutional revision".
"In principle, the basic law of a country should only be changed in cases of extreme necessity, and only in the best interests of the Nation".
MP Tshibangu Kalala from the majority AMP parliamentary group had introduced a law proposal in November which, if adopted, would have allowed President Kabila to be a member of the High Council of the Magistrature. A move seen by many judges, and critics who opposed the change, as an attempt to influence the decisions of the body which overseas the judicial branch.
Many MPs from the opposition reacted to the speech by applauding the fact that the president had apparently said no to a law proposal supported by MPs from his own parliamentary group, and which would have increased his control over the judiciary.