Congo News Agency | Published on November 21, 2012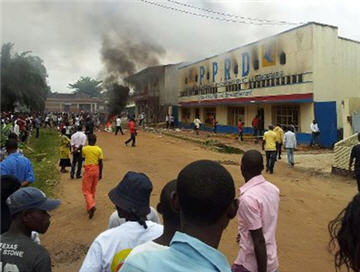 Protesters burn down President Kabila's PPRD political party offices in Kisangani |
Enlarge
Thousands of students protested in Kisangani, Bunia and Kinshasa on Tuesday after M23 rebels seized the eastern Congo city of Goma.
They were mostly expressing their furor at the M23 rebels, but also targeted the government and the United Nations mission in DR Congo (MONUSCO), whose soldiers and peacekeepers were unable to stop the rebels from taking the capital city of North Kivu province.
Despite government and UN officials' assurances, M23 rebels walked into Goma without facing much of a fight from the Congolese army or UN peacekeepers.
Government and military officials had promised to keep the rebels from taking the city of nearly 1 million residents. But, as the city fell, they were nowhere to be seen. North Kivu province Governor Julien Paluku announced later during the day that the province's officials would now "govern" from the city of Beni.
MONUSCO officials had said for months that the rebels would not be allowed to take Goma. On Tuesday, the peacekeepers looked on as the rebels marched unchallenged into Goma.
French foreign minister Laurent Fabius said it was "absurd" that the UN peacekeepers could not stop the rebels from entering Goma. With a 17,000-strong military and civilian staff, MONUSCO has a yearly budget of close to $1,5 billion and is the second-largest peacekeeping mission in the world.
Students in Kisangani, DR Congo's third largest city, burned down vehicles belonging to MONUSCO and threw stones at its offices. They also burned a building serving as the headquarters of President Joseph Kabila's PPRD political party in the city and an M23 spokesman's house.
In Kinshasa, students who tried to protest against the fall of Goma were stopped by the police.
Tensions may rise even further between protesters and security forces in the coming days as more people join protests against the M23 rebels.